Gig Harbor Tree and Stump Removal Services
24 hour emergency calls
Gig Harbor Tree Service will be onsite when you need us. From getting your home secured to tree removal and storm damage clean up, to direct billing of your insurance carrier, we are dedicated to making a terrible situation more bearable and helping to protect your family, property and peace of mind.

24 hour Hotline (253) 229-4119


Storm damage clean up
Big storms mean big messes! Our trained staff will be onsite to clear your site of tree limbs, logs and debris. We will clear broken branches, address damaged trees and chip or haul off the remaining debris.


Wind-sail reduction
Wind-sail reduction is thinning of your tree's branches, allowing wind to pass through, verses blowing your tree down from sustained wind force.


Tree Growth balancing
Growth balancing is simply shaping of your tree and gangly branches, creating a balanced look and weighting for your tree.


Building Site Prep clearing & disposal
We clear and prepare home and commercial sites for development. We do timber clearing and removal, including stump grinding, and land development to spec for your next project.

Gig Harbor Tree Service also has a full site development team available to guide you through your land development needs. We have the big equipment to move and prepare even the most challenging projects and we have the trained staff to make your project a success.


Tree Stump grinding
We grind your tree's stump to the ground from small stumps to large stumps. We have the equipment to fully remove to ground level even the biggest stumps.
---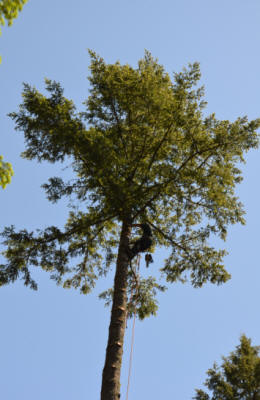 Tree Removal:
Proper planning prior to removal of trees ensures high-quality results. During the planning phase, we determine what needs to be done to maintain the appearance and safety of your trees:
If a tree is dead or dying
If a tree is hazardous
If a tree is causing obstruction that is impossible to correct through pruning
If a tree is crowding causing harm to other trees
If a tree is to be replaced with a more suitable specimen
If a tree must be removed for new construction
If you the home owner decide you want the tree gone for any other reason
Other Services:
Pruning, using proper arborist practices
Remove limbs that interfere with wires, building facades windows or obstruct streets & sidewalks
Remove diseased or insect-infested limbs
Thinning unnecessary branches
Create better structure to lessen wind resistance and reduce potential storm damage
Improve shape or silhouette
Cabling/Bracing/Lightning Protection
Stump Removal
Williams Tree and Stump LLC and tree service is a family-owned business in Gig Harbor, WA which provides tree stump grinding services. From grinding storm-damaged trees to small tree grinding. Our goal is to make your wooded landscapes safe, beautiful and appealing, while preserving the beauty of nature.

We can do everything from hazardous tree removal to windfall stump removal and clean up. We also provide removal and trimming of dangerous trees and we do tree topping or trimming to improve your view.

No matter how complex your tree removal or transplantation challenge we have the experience and equipment to:
Do The Job Right
Do The Job Safely
Do The Job Efficiently
Do The Job Affordably
Do The Job to Your Complete Satisfaction
Thanks,

Williams Tree and Stump LLC.
Call today for a Free Estimate on your Tree Removal or Stump Grinding Project
Serving the greater Seattle, Tacoma and Peninsula areas
253-229-4119